Add some holiday cheer to your breakfast table with festive pancakes for Christmas! These ten recipes for Christmas pancakes are perfect for your Christmas morning breakfast.
As an Amazon Associate, we earn from qualifying purchases.
Merry Christmas, Rhubarbarians! Let's make Christmas morning breakfast extra special and festive with these delicious recipes for Christmas pancakes.
You're cozied up in your warm robe and slippers on Christmas morning, the scent of freshly brewed coffee in the air, and a stack of warm, fluffy pancakes piled high on your plate. Not just any weekend pancakes, these are holiday pancakes with all your favorite flavors of the season. From gingerbread to orange, cranberry to eggnog, apple to pumpkin pie.
Grab yourself that cup of holiday spiced coffee and enjoy some amazing pancakes!
Jump to:
Why you'll love these
Recipes
Turn up the Christmas tunes, put on your apron, and pour another cup of coffee. Here are the pancake recipes for your Christmas morning celebration!
The tartness of the cranberries, the warm cinnamon flavor, and the sweet maple syrup. Crispy on the outside, moist on the inside pancakes. Trust me, these are worth waking up for!
Cranberry pancakes with buttermilk and cinnamon
Got some cranberries in your fridge? Try this fresh cranberry pancakes recipe with buttermilk and cinnamon. Buttery and bursting with flavor!
Check out this recipe
The flavor combination of fresh orange and cinnamon is like a cozy dream! Can you imagine drinking a hot cup of coffee, wrapped in a blanket, and eating cinnamony citrus pancakes while it's snowing outside?
Orange pancakes with buttermilk and cinnamon
Crispy buttermilk orange pancakes recipe! These old fashioned, citrus pancakes are perfect for a weekend breakfast or a holiday brunch.
Check out this recipe
3. Cranberry clafoutis with dark chocolate and pecans
We took the classic french clafoutis and gave it a holiday twist! Think.... light and fluffy, yet custardy large pancake for two or three. So good, give it a try!
Cranberry clafoutis with dark chocolate and pecans
Easy blender recipe for cranberry clafoutis. Loaded up with dark chocolate chunks and pecans. The classic French custardy breakfast, with a holiday spin. Eat dessert for breakfast!
Check out this recipe
These pancakes are a fun way to bring that Mr. Grinch right into your kitchen. Serve these delicious pancakes with maple syrup and a big mug of hot chocolate for a sweet, Christmas breakfast.
Grinch Pancakes (From Scratch!)
A super easy breakfast to make the the kids, these Grinch pancakes are so fun to make during the holiday season!
Check out this recipe
Fluffy pancakes get the gingerbread treatment! Brown sugar, molasses, cinnamon, ginger ... yum. Top with whipped cream and cinnamon for the perfect holiday breakfast.
Gingerbread Pancakes - The Hazel Bloom
A gingerbread pancakes recipe perfect for Thanksgiving breakfast, Christmas breakfast, or any breakfast. Don't forget the whipped cream!
Check out this recipe
6. Aebleskivers
These little Danish pancakes are truly a holiday treat! Serve aebleskivers sprinkled with powdered sugar, and your favorite syrup. You can also fill them with jam or chocolate!
Aebleskivers, aka Danish Pancakes (and my Love Affair with Trader Joe's)
This Aebleskiver recipe will make the most beautiful Aebleskivers, also known as Danish pancakes. Fill them or eat them plain, everyone will love them!
Check out this recipe
7. Christmas sheet pan pancakes
Four types of Christmas pancakes on one sheet pan! This recipe is great for holiday weekend mornings when the kids are asking for a hot breakfast but you don't have the energy to prep a full meal and do all the dishes that come along with it.
Christmas Sheet Pan Pancakes
Bake four kinds of Christmas-themed pancakes on one sheet pan -- no flipping required! This recipe is super easy and perfect for the holidays.
Check out this recipe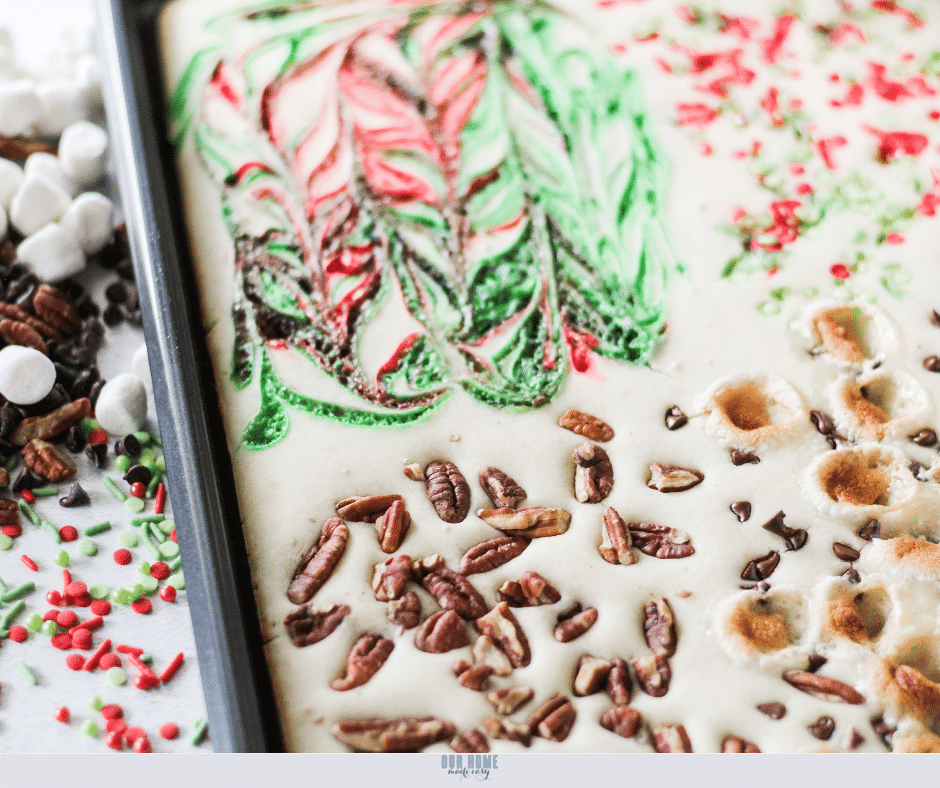 Is there anything that screams "holiday" more than eggnog? They are perfect to eat fresh on Christmas morning! Enjoy them while everyone opens their gifts under the tree!
Fluffy Eggnog Pancakes (So Easy!)
These fluffy Eggnog pancakes are melt in your mouth delicious and made with ingredients you probably already have at home!
Check out this recipe
This Caramelized Apple German Pancake is especially tasty! The cinnamon-sugar apples caramelize in the pan and create a buttery, caramelized topping that bakes right into the pancake.
German Apple Pancake
Light and fluffy German Apple Pancake is a delicious twist on the usual puff pancake or Dutch baby recipe! Easy to make and sure to please!
Check out this recipe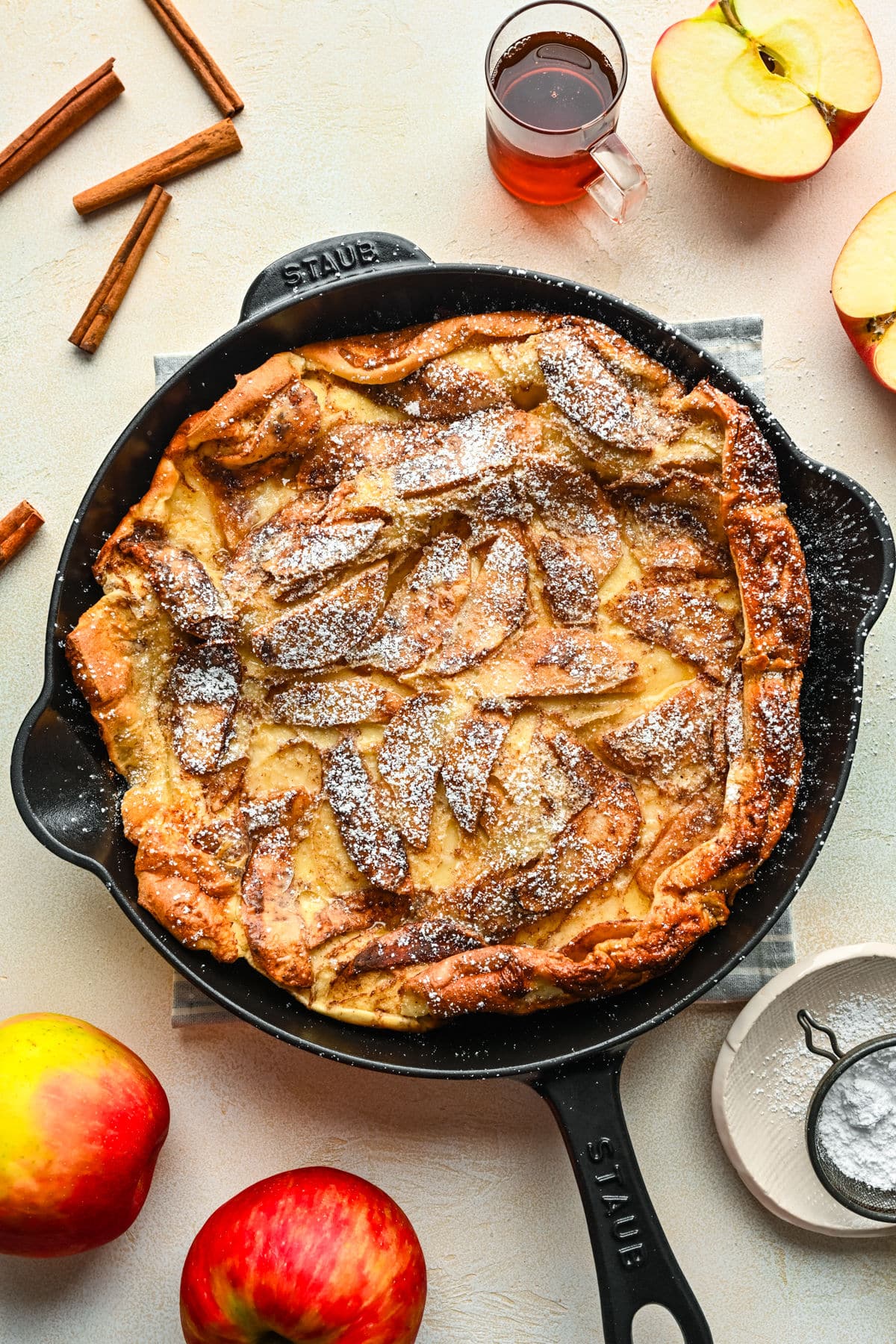 10. Gluten-free pumpkin pancakes
When pancakes are this rich and flavorful, a simple pat of butter and drizzle of maple syrup are all you need. Toss on some toasted pecans to make them festive!
Gluten-free Pumpkin Pancakes
These thick buttermilk gluten-free pumpkin pancakes are soft and fluffy and loaded with holiday pumpkin spice!
Check out this recipe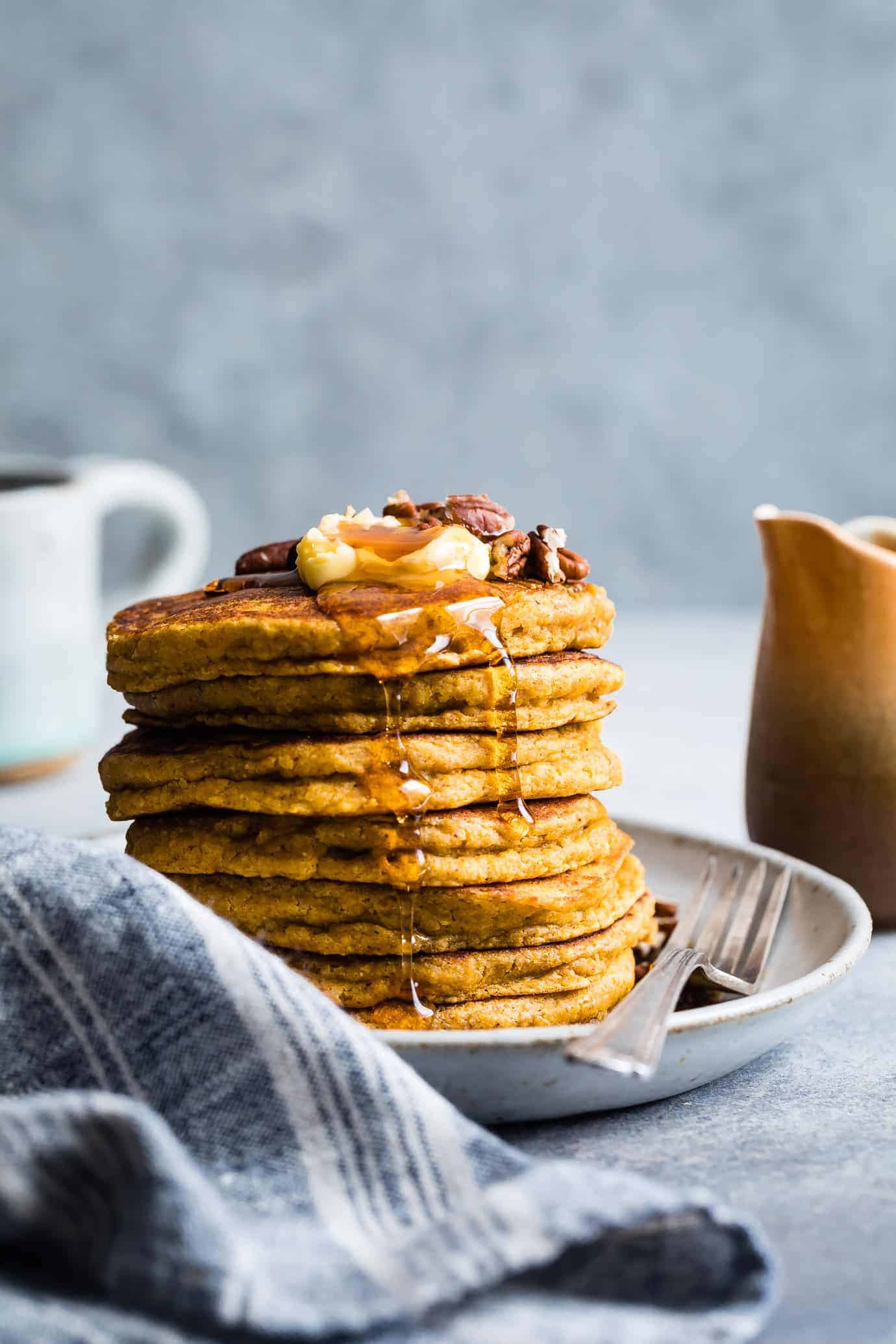 Serving suggestions
Now that you're loaded with Christmas pancake ideas, let's make this Christmas breakfast even more special.
Toppings:
Serve with:
Pro tip: To keep the pancakes warm while you cook, preheat your oven to a low temperature and place a baking sheet inside. As you cook the pancakes, transfer them to the warm oven. This keeps them toasty while you finish the entire batch.
FAQs
If you have a question it may be answered here! If not, drop a question in the comment section and I'll answer as soon as I can.
Can I make the pancake batter ahead of time?
It depends which recipe you are making. However, it is safe to say you can combine the dry ingredients and the wet ingredients separately and combine them right before cooking.
Can I freeze leftover pancakes?
Yes, you can! Allow the pancakes to cool completely, then stack them with parchment paper between each one and place in a freezer-safe bag. Reheat in the toaster for a quick and delicious breakfast later.
What's the best way to keep the pancakes warm for serving?
Preheat your oven to a low temperature and place a baking sheet inside. As you cook the pancakes, transfer them to the warm oven. This keeps them toasty while you finish the entire batch.
Can I make these for a large group?
Absolutely! Double or triple the ingredients based on the number of servings needed. Keep the pancakes warm in the oven (see serving suggestions).
Any tips for cooking these with kids?
Let them help with pouring ingredients, stirring the batter, or even creating their own pancake shapes. Then let them have fun with the toppings. It's a great way to make cherished holiday memories in the kitchen.
Recommended equipment and resources
Here are some kitchen tools and essentials for making perfect Christmas pancakes at home as well as resources and articles you may find helpful.
Equipment:
Resources:
If you make any of these Christmas pancake recipes, please let me know on social media! Don't forget to tag me on Instagram with #Rhubarbarians.
LIKE WHAT YOU SEE? GET FREE WEEKLY RECIPES DELIVERED TO YOUR INBOX! SIGN UP HERE!